Natural Electrolyte Drink For Athletes

Contact us for help with your sports injury.
Read about how to dose a remedy here.
Buy homeopathy at Homeopathic Remedies Online.
No more sugary Gatorade needed!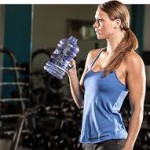 Use these natural ingredients to power up your workout especially in the heat of summer.
Option #1: Mix up the following in a gallon container and chill together.
Option #2:  Mix these in a gallon container and fill to the top with ice and water.
Shake well before each drink.
This is a tart, refreshing drink to keep you well hydrated during workouts in the gym or heat outside.
1 gallon of  filtered spring water
16 pills of Bioplasma 
16 pills of Nat Sulph 6X (add for hot weather use)
¼ cup yogurt with acidophilus bifidus OR kefir.
1/4 – 1/2 cup fresh squeezed lemon or lime juice
raw honey or maple syrup – sweetened to taste
1 teaspoon pink Himalayan or Celtic sea salt
½ cup coconut milk (optional)
Shake well before each drink.
This drink is mildly sour and very refreshing!